Mount Wooroolin Lookout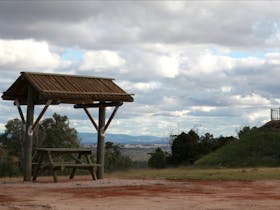 You'll find great views from Mount Wooroolin Lookout, just over four kilometres west of Kingaroy. Established in 1988 as a bicentennial project by Kingaroy Shire Council, the area features a grassed area with picnic tables and wood barbecues.
The elevated viewing platform offers 360 degree panoramic views of the surrounding countryside: Coolabunia Hill, the Bunya Mountains, Queensland's second oldest National Park and Tarong Power Station, which generates approximately one fifth of Queensland's power. To the northwest is pretty Gordonbrook Dam, the source of Kingaroy's water supply.
The ramp to the viewing platform is smooth for disabled access, but care needs to be taken, as it's quite steep. The nature reserve is 160 acres of endangered eucalypt woodland and dry vine forest. Bird watchers are often rewarded with sightings of Regent Bower Birds, Black Breasted Button Quail and Eastern Shrike-tit.
Visitors are advised to take care while ascending or descending the narrow sealed road to the top; it's not suitable for cars towing caravans or trailers.
LOCATION:
Mount Wooroolin lookout, Kingaroy
4610, QLD

Phone:
0741899100

www.discoversouthburnett.com.au
https://www.discoversouthburnett.com.au/wp-content/uploads/2018/01/Discover-South-Burnett-RESIZE-300x185.png
0
0
South Burnett
https://www.discoversouthburnett.com.au/wp-content/uploads/2018/01/Discover-South-Burnett-RESIZE-300x185.png
South Burnett
2023-12-01 14:02:03
2023-12-02 00:02:03
Mount Wooroolin Lookout