Nuova Scuola Wines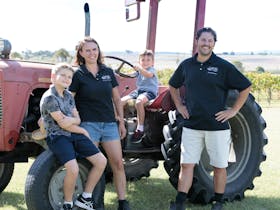 Nuova Scuola Wines is a unique family run wine business focused on making quality wines from varieties that suit the climate and terroir of the beautiful South Burnett Region.
At Nuova Scuola they offer unique, personal, wine-tasting experiences where you will meet Stefano and Sarah who grow and make these exceptional wines. Collectively they have more than 30 years wine industry experience in the vineyard and in wine-making.
They offer 3 amazing options for tasting that MUST be pre booked online or by phone:
– Tasting Only
Enjoy a fully guided tasting of their entire range with the winemaker who can give you a full insight to their story, their wines, and wine making styles.
– Vineyard Tour and Tasting
Enjoy a glass of our delicious bubbles as you tour the vineyard, then head back to the cellar for a fully guided tasting with one of their winemakers, plus enjoy a taste of their fortified directly from the barrel!
– Vineyard Tour, Tasting & Tagliere
Experience their classic Tour and Tasting, plus enjoy an authentic Italian style Charcuterie tasting board served with your wine tasting, and finish off with a taste of fortified directly from the barrel!
Check out their website for further details and remember that Nuova Scuola Wines is open by appointment only so don't forget to book ahead.
LOCATION:
167 Tipperary Road, Redgate
4605, QLD
Phone:
/ 0408850595

https://www.nuovascuola.com.au
https://www.discoversouthburnett.com.au/wp-content/uploads/2018/01/Discover-South-Burnett-RESIZE-300x185.png
0
0
South Burnett
https://www.discoversouthburnett.com.au/wp-content/uploads/2018/01/Discover-South-Burnett-RESIZE-300x185.png
South Burnett
2023-12-06 14:03:25
2023-12-07 00:03:25
Nuova Scuola Wines