The Ration Shed Museum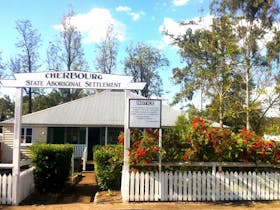 The Ration Shed Museum ( The Cherbourg Historical Cultural Precinct ) is in South East Queensland – a three hour drive from Brisbane. The Ration Shed welcomes visitor groups and schools to come see and experience what life was like for their people living under the Aboriginal Protection Act during the 20th century. Visitors meet Elders, hear their stories, watch videos, view artwork and explore the many wonderful
aspects of Aboriginal culture and contemporary Cherbourg life.
See their website for more information and to make bookings or give them a call.
The Ration Shed Museum looks forward to hosting you.
LOCATION:
18 Barambah Avenue, Cherbourg
4605, QLD
Phone:
0741695753
https://www.discoversouthburnett.com.au/wp-content/uploads/2018/01/Discover-South-Burnett-RESIZE-300x185.png
0
0
South Burnett
https://www.discoversouthburnett.com.au/wp-content/uploads/2018/01/Discover-South-Burnett-RESIZE-300x185.png
South Burnett
2019-08-24 14:01:47
2019-08-25 00:01:47
The Ration Shed Museum