'Home' – An exhibition by Samantha Nolan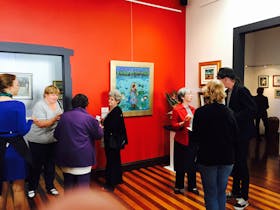 Mowbullan Guest House in the Bunyas had always been a constant in Samantha's life and thus felt like 'Home'.
This exhibition incorporates artworks with a great variation in media, scale and subject matter. This reflects the complexity of the notion of 'home'. The term encapsulates a sense of place, a connection to people, animals and things. It references familiarity, history and belonging. In Sams works she is attempting to communicate an intimate relationship with the objects, places, people and animals that tether her days to something meaningful.
LOCATION:
126 Haly Street, Kingaroy
4610, QLD
https://www.discoversouthburnett.com.au/wp-content/uploads/2018/01/Discover-South-Burnett-RESIZE-300x185.png
0
0
South Burnett
https://www.discoversouthburnett.com.au/wp-content/uploads/2018/01/Discover-South-Burnett-RESIZE-300x185.png
South Burnett
2018-03-18 02:18:28
2018-03-18 12:18:28
'Home' - An exhibition by Samantha Nolan