December/January Gallery Exhibtion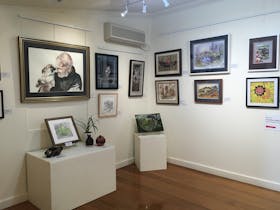 Wondai Regional Art Gallery hosts it's opening night from 6pm on the first Friday of the month, the cost includes live entertainment and a hot and cold supper.
For their December/January exhibitions they have June McCotter hosting the whole gallery with "Take Four." In this exhibition, four very different personalities come together to display this energy, showing how colour, form and medium can be so very different, but always evocative.
Art comes in many forms. We speak of "the art of…."practically anything! It is diversity that makes life interesting…and fun. Who wants the "humdrum"? All artists strive to make an impact. They want to challenge you, to please you and to make you think. Art is fascinating! The icing on the cake of life. It can make something functional, beautiful, as in a bridge. Art IS a bridge between people, yet can also divide. It can be simple…and wildly complex. Yes, fascinating indeed.
They hope you find something in the offerings there that grabs you. In the nicest possible way, of course!
Access to the exhibition is free, from 10am to 4pm daily.
LOCATION:
40 Haly Street, Wondai
4606, QLD
https://www.discoversouthburnett.com.au/wp-content/uploads/2018/01/Discover-South-Burnett-RESIZE-300x185.png
0
0
South Burnett
https://www.discoversouthburnett.com.au/wp-content/uploads/2018/01/Discover-South-Burnett-RESIZE-300x185.png
South Burnett
2019-01-22 03:03:35
2019-01-22 13:03:35
December/January Gallery Exhibtion