A little left of centre – Artist: Robyn Dower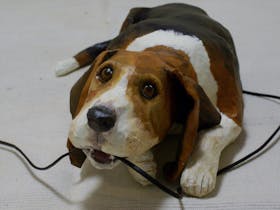 As the name suggests 'A little left of centre' explores the quirkier side of Robyn Dower's arts practice and the desire try new things.
This exhibition is all about being a little diverse. It is about taking a subject and presenting it in a slightly different way. For the artist, it is about being a little braver and going against what she thinks people may expect from her. Her aim is to make the viewer look a little harder, think a little harder and to question a little harder, using subjects that we can all relate to.
Along with a body of new work on display this exhibition will also showcase pieces from Robyn's highly successful touring exhibition 'A Sense of Wonder'.
LOCATION:
126 Haly Street, Kingaroy
4610, QLD
https://www.discoversouthburnett.com.au/wp-content/uploads/2018/01/Discover-South-Burnett-RESIZE-300x185.png
0
0
South Burnett
https://www.discoversouthburnett.com.au/wp-content/uploads/2018/01/Discover-South-Burnett-RESIZE-300x185.png
South Burnett
2018-08-21 19:40:28
2018-08-22 05:40:28
A little left of centre - Artist: Robyn Dower