Heritage Waterhole Rocks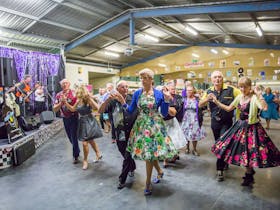 The Nanango A. P. and M. Society Incorporated, (The Nanango Show Society) is presenting the 9th Annual Waterhole Rocks Rock n Roll Campout weekend. The program for this event is actually a combination of three events all combined into one.
Rock 'n' Roll music and dancing, Custom Cars and Hot Rods, and competitions with a Car and Vintage Caravan Show. Along with the Rock 'n' Roll bands there will be entertainers performing all weekend with free dance lessons (rock 'n' roll) for the public.
The show society will be running a canteen during the weekend and there will be plenty of camping plus a good number of stalls on site to wander and browse. Check them out on Facebook – The Waterhole Rocks.
LOCATION:
129 Drayton Street, Nanango
4615, QLD
Phone:
0741631273 / 0474266215

nanangoshowsociety@bigpond.com
https://www.discoversouthburnett.com.au/wp-content/uploads/2018/01/Discover-South-Burnett-RESIZE-300x185.png
0
0
South Burnett
https://www.discoversouthburnett.com.au/wp-content/uploads/2018/01/Discover-South-Burnett-RESIZE-300x185.png
South Burnett
2021-09-19 14:00:41
2021-09-20 00:00:41
Heritage Waterhole Rocks