Ration Shed Reconciliation Fun Run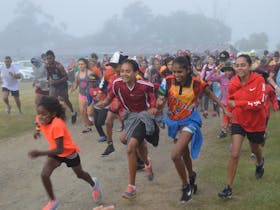 Fun Run participants run or walk between the towns of Murgon and Cherbourg. The post-race festival provides the opportunity to learn about and experience Cherbourg's rich history. The event concludes with presentations of medals and prizes.
Some of the objectives of the Ration Shed Reconciliation Fun Run include promoting reconciliation, building bridges between communities, having fun, getting to know neighbours, raising funds for the Ration Shed Museum, making new friends, getting fit and healthy and opening people up to the future.
LOCATION:
18 Barambah Avenue, Cherbourg
4605, QLD
Phone:
0741695753 / 0423222559

https://www.rationshedfunrun.com/
https://www.discoversouthburnett.com.au/wp-content/uploads/2018/01/Discover-South-Burnett-RESIZE-300x185.png
0
0
South Burnett
https://www.discoversouthburnett.com.au/wp-content/uploads/2018/01/Discover-South-Burnett-RESIZE-300x185.png
South Burnett
2019-03-07 14:05:09
2019-03-08 00:05:09
Ration Shed Reconciliation Fun Run