Blackbutt Australia Day and Top of the Blackbutt Range Bazaar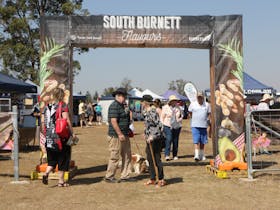 Overtop of the Blackbutt Range (just a daytrip from Brisbane, Sunshine Coast and Gold Coast) is the quaint country town of Blackbutt, known for Australia's best woodchopper, national tennis players, the best pies and sweet delights!
This Australia Day, January 26 2021, the town is putting on a country celebration for the community and visitors.
|Markets|
Starting at 7am is the 'Top of the Blackbutt Range Bazaar', a boutique marketplace of locally handmade products and fresh produce. It boasts wares that feature avocados (the town's main festival of the year) and a range of handmade items.
|Sausage Sizzle and the Locals|
Be sure to go on and grab a sausage from the sizzle, manned by local Blackbutt Avocado Festival volunteers.
|Bands at the Butt|
Bands at the Butt, a live and local band movement in Blackbutt, commences at 9am, with chairs and shade to enjoy performances from the talented folk from around the South Burnett.
|Classic Games & Fun|
Try a range of fun of the classic kind to be had including Avocado games, the Gumboot Throwing, Rolling Pin Throw and Horseshoe Hurl. It's truly a good laugh for all ages!
|Avocado Delights|
Seek avocado food and the Avo-Bar-Do stall which sees a range of avocado shakes, smoothies and alcoholic opportunities to sip throughout Summer's Day.
LOCATION:
23 Bowman Road, Blackbutt North
4306, QLD
Phone:
0448946702

https://www.facebook.com/BBBAvoFest
https://www.discoversouthburnett.com.au/wp-content/uploads/2018/01/Discover-South-Burnett-RESIZE-300x185.png
0
0
South Burnett
https://www.discoversouthburnett.com.au/wp-content/uploads/2018/01/Discover-South-Burnett-RESIZE-300x185.png
South Burnett
2021-01-22 14:00:10
2021-01-23 00:00:10
Blackbutt Australia Day and Top of the Blackbutt Range Bazaar