3rd Annual Grape Stomp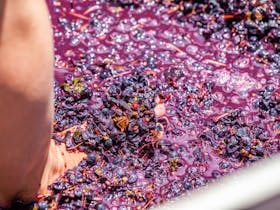 Kingsley Grove Estate hold an annual Grape Stomp Festival on the 1st Sat in February each year.
The Grape Stomp will be held on Saturday, 06 February 2021.
Guests will be able to relax inside the rustic winery Cellar Door or under the shade outside, glass of wine in hand, listening to the live music by MisFitz. Overlooking the local Boutique Market Stalls and Jumping Castle, with the smells of the woodfired pizza oven.
The Grape Stomp has changed a little this year. Local Boutique Market Stalls (organised by The Murgon Florist) will add a lovely addition to an already awesome day. There will be approximately 20 local Boutique Market Stalls situated outside the winery.
The Stomping barrels will be set up outside the winery/cellar door where guests can stomp grapes and fill up their own wine bottle.
Tickets are not required, however those who purchase stomping tickets will have guaranteed stomping.
Stomping time: 11am and 2pm
Tickets can be purchased on the website. Combination food & stomping tickets purchased prior to the Grape Stomp will receive a complimentary bottle of wine (your choice).
Whilst we do offer marquee shade with tables and chairs and inside the cellar door, it might be nice to bring along your own picnic blanket, chairs and possibly even shade.
Strictly no BYO drinks or food to this event.
LOCATION:
49 Stuart Valley Drive, Goodger
4610, QLD
Phone:
0414230128 / 0741622229

https://www.kingsleygrove.com/event-tickets/
https://www.discoversouthburnett.com.au/wp-content/uploads/2018/01/Discover-South-Burnett-RESIZE-300x185.png
0
0
South Burnett
https://www.discoversouthburnett.com.au/wp-content/uploads/2018/01/Discover-South-Burnett-RESIZE-300x185.png
South Burnett
2021-01-22 14:00:10
2021-01-23 00:00:10
3rd Annual Grape Stomp