The Bunyas Coffee Shop & Tavern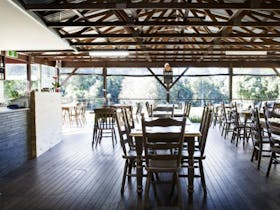 Coffee Shop. Bar. Bistro.
The Bunyas Coffee Shop & Tavern is the perfect place to indulge your taste buds. Naturally, bunya nuts feature throughout the extensive menu with items such as the chicken bunya nut salad and the bunya nut scones, jam & cream proving popular with visitors keen to taste some local goodness!
With three beautiful areas to dine: Lyrics, Elz & The Deck you will be treated to a mouth-watering dining experience in the surrounds of the serene National Park.
The Deck & Whisky Bar
Enjoy your meal in the beautiful fresh air of the mountains on The Deck and try a whisky in Australia's highest whisky bar. The Deck brings you closer to nature as you enjoy your coffee with our delectable Bunya Nut Scones, Jam and Cream.
Whisky Tastings Saturdays at 3.30pm. Bookings essential.
Mon – Sat: from 10am Sun: from 8am (times vary seasonally)
LOCATION:
Bunya Avenue, Bunya Mountains
4405, QLD
https://www.discoversouthburnett.com.au/wp-content/uploads/2018/01/Discover-South-Burnett-RESIZE-300x185.png
0
0
South Burnett
https://www.discoversouthburnett.com.au/wp-content/uploads/2018/01/Discover-South-Burnett-RESIZE-300x185.png
South Burnett
2021-09-18 14:01:42
2021-09-18 14:01:42
The Bunyas Coffee Shop & Tavern