Tipperary Flat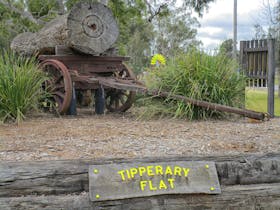 Tipperary Flat, situated at the southern entrance to Nanango adjacent to Lions Park and the BP Service Station, is a well equipped picnic area featuring a walking trail leading visitors around the historic displays with informative interpretive signs provided.
In early days, Tipperary Flat was used for sports days and get-togethers with other families who lived close by and the name originated from the first settlers who came from Ireland. A walking track extends to the Tarong turnoff past 'Hannibal', the first Tarong Coal Dragline Bucket, and has become a popular pastime for residents, visitors and pets.
Adjacent to Tipperary Flat is an existing stand of Bunya Trees, a special icon of the natural and cultural heritage of the South Burnett, which acknowledge the original inhabitants.
Tipperary Flat is an informative rest stop on your journey through the South Burnett.
LOCATION:
D'Aguilar Highway, Nanango
4615, QLD
https://www.discoversouthburnett.com.au/wp-content/uploads/2018/01/Discover-South-Burnett-RESIZE-300x185.png
0
0
South Burnett
https://www.discoversouthburnett.com.au/wp-content/uploads/2018/01/Discover-South-Burnett-RESIZE-300x185.png
South Burnett
2022-06-25 14:01:16
2022-06-26 00:01:16
Tipperary Flat