Ringsfield House, Nanango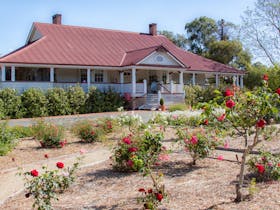 ***RINGSFIELD HOUSE IS CURRENTLY CLOSED TO THE PUBLIC***
Stately Ringsfield House was built in 1908 for Mr and Mrs James William Davies Graham. It was designed by noted Queensland Architect Robin Dods and is distinguished by its wide verandahs, bay windows, large, airy bedrooms and built-in cupboards.
Ringsfield has enjoyed four lives so far! From 1908 till 1942 it was the private home of the Graham and Sullivan families. From 1942 to 1970, it served as Ringsfield Maternity Hospital delivering almost 4,000 babies! By 1973 the house was a Lifeline refuge and continued in this capacity for a further 20 years. In 1992, the then Nanango Shire Council restored Ringsfield as a museum and historical centre.
From November 2017 Ringsfield will operate not only as a museum, cafe and tourist destination but also as a restaurant and events venue supporting both the local and broader communities. It continues to draw people from far and wide to experience the beauty, peace and tranquility that Nanango has to offer.
LOCATION:
41-45 Alfred Street, Nanango
4615, QLD
https://www.discoversouthburnett.com.au/wp-content/uploads/2018/01/Discover-South-Burnett-RESIZE-300x185.png
0
0
South Burnett
https://www.discoversouthburnett.com.au/wp-content/uploads/2018/01/Discover-South-Burnett-RESIZE-300x185.png
South Burnett
2021-10-16 14:00:31
2021-10-17 00:00:31
Ringsfield House, Nanango