Kumbia Federation Heritage Centre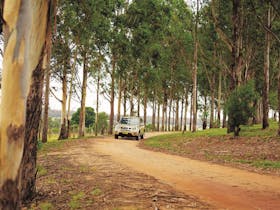 In this collection you'll find a treasure trove of historical photographs, local historical records and artefacts relating to the early residents of Kumbia. The collection is thanks to the efforts of the Kumbia and District Historical Society (established 1980) and the Kumbia Hall Committee who joined forces to preserve and present as much local history as possible for the benefit of future generations and those interested in local history.
Of particular note is memorabilia from the early 1900s and a large collection of historic photos of the district, many of which were the work of local freelance photographer Harold Mears. After his death in 1977, the Historical Society was successful in acquiring his entire collection of 13000 negatives. Many are of the local district, people and events. Many of the photos have been printed off and are available for sale as postcards. To carry on from Harold Mears' era the Society has been given a collection of slides of local interest, these are the work of Mr Ernie Garrett and covers the 1950s to the 1970s.
LOCATION:
31 Bell Street, Kumbia
4610, QLD
Phone:
0741899555

www.discoversouthburnett.com.au
https://www.discoversouthburnett.com.au/wp-content/uploads/2018/01/Discover-South-Burnett-RESIZE-300x185.png
0
0
South Burnett
https://www.discoversouthburnett.com.au/wp-content/uploads/2018/01/Discover-South-Burnett-RESIZE-300x185.png
South Burnett
2023-12-06 14:03:27
2023-12-07 00:03:27
Kumbia Federation Heritage Centre